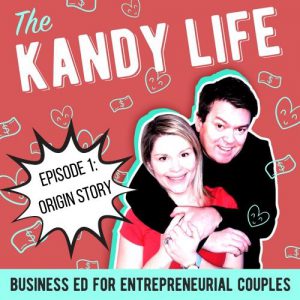 Show Notes
"We were both in the mindset of, 'let's create our lives. Let's not be victims. Let's not suffer and work any jobs we hate.'" – Andy Walker

Move aside Kimye (Kim + Kanye), here comes Kandy (Kay + Andy). This power team runs a digital marketing agency, a tropical fruit company, a warehouse manuals business, and among numerous other things, a book writing operation from home, where they can usually be found working in their pajamas.
The Kandy Life is an approach to living that happens when two entrepreneurial-minded individuals team up in love and business and decide life will be on their terms. Together, they run a household and build a life where each person is passionate about what they do, and where they both have time freedom, creative autonomy, and control of their financial destiny. As a team, they support each other to realize both personal and shared dreams. They build a life beyond what they each could alone.
Episode 1 explores Kay and Andy's origin story and prepares you for what you will learn listening to The Kandy Life podcast.
1.26: What it's like to live the Kandy Life. And how the couple agrees that one major benefit is working from home in your boxers.
2.55: Running automated income streams and service-based businesses under one roof. The various businesses Kay and Andy run today and how they got here
7:09: The Kandy love story. Find out how Kay and Andy became Kandy, and how the unique environment where they met has massively contributed to their success in business and love
10:24: The cornerstone belief that shapes the Kandy Life approach
12:15: How to pivot from a 9-5 job to running your own business. Kay's transition from a successful event planner working for a company to a self-employed copywriter
14:37: The critical skills you need most today to step out on your own
16:03: Why to be skills-focused when pivoting
23:47: Kandy's dream for listeners of this podcast
24:46: The game-changing key to any business' success. And the element other business podcasts are missing that you'll get here
26:10: Why the name 'The Kandy Life'?
Follow us on Instagram @kandylifepodcast