Did you know you can start selling products on Amazon in as little as one day? And even if you don't know what to sell that's easy to figure that too? In today's episode, Andy and Kay will teach you the ins and outs of selling products on Amazon.
Episode Description
Episode 15 – How to Sell Products on Amazon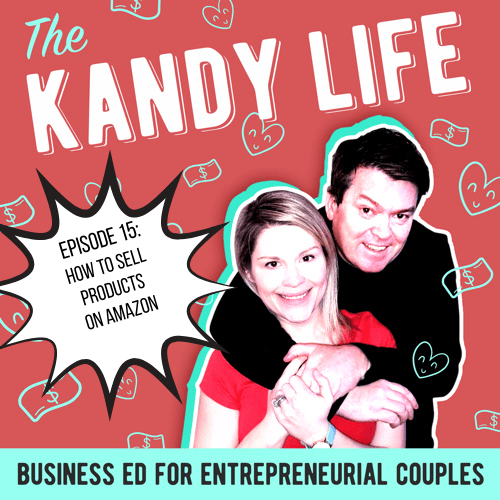 Episode 15 – How to Sell Products on Amazon
1:33 – How do I get started selling physical products online? It might surprise you how simple the process is. You could be in business to sell on Amazon in as little as 24 hours even if you currently don't have any products to sell. Andy and Kay explain
3:10 – Selling on Amazon. How to start reselling products you can buy at any store online
4:35 – Why reselling products is very simple but you need to know what to look for to make a profit. Kay shares her personal process selling baby toys on Amazon
6:28 – How to capitalize on regional sales to turn a profit on Amazon
7:30 – The potential drawbacks of purchasing discount products from stores in your area and reselling on Amazon. Why you need to think about cash flow, time, and the challenge of product availability
9:52 – Why reselling discounted products from stores on Amazon is super simple! Kay and Andy walk you through the process of what to do with your products right after you bring them home from the store. Learn how easy it is to post online and set up your seller account on Amazon
12:32 – What the heck is a UPC number and why do you need it? A quick explanation about what UPC codes are, the various types, how to get them and when you need them/when you don't
20:26 – Who ships the product? You or Amazon? The answer is both! Andy and Kay explain each option.
21:31 – "Get your spreadsheet out!" Andy gives some solid advice on doing the math before you sell to make sure you're making money and your time burn is worth it
25:55 – How to make your own products by bundling products together and why you might sell more that way
For the latest updates. Follow us on Instagram @kandylifepodcast
Want to be a guest on the Kandy Life podcast? Andy and Kay want to hear from you! Come on the show and share your knowledge, get business/mindset advice and promote what you're up to. We are seeking both wantrepreneurs and entrepreneurs in all types of niches, as well as, couples who are in business together. Email kandy@kandylifepodcast.com.
Show Notes
Need art for your home? Buy Kay's mom's art. Just listed 😉 Hibiscus Flower / Bird Nest / Waterlilly /